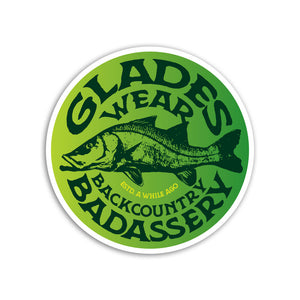 Backcountry Badassery Sticker
There are many fishing hotspots in the world, but only one where anglers brave bull sharks, alligators, crocodiles, pythons, and other fierce critters between casts. And that's just badass.
This 4" x 4" sticker is designed to withstand scratches, rain, direct sunlight and even your dishwasher. Slap this puppy on your skiff, truck window, outboard, water bottle, swamp buggy, laptop, cooler, significant other, forehead, and whatnot.
All sticker sales are final -- no returns.