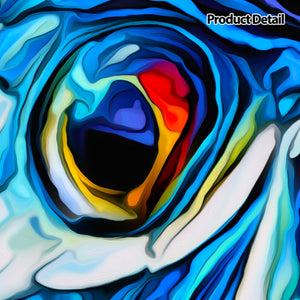 Product image 1
Product image 2

Product image 3
Product image 4
Product image 5
Product image 6
Product image 7
Seems like I'd get used to seeing tarpon up close but I always end up marveling at them -- their plated sides, streamlined bodies, swallow-a-watermelon-whole mouths and huge, alert eyes. It's tough to understand that the big creature laying quietly at boat side after a tough battle is the same one that inhaled your fly, melted your expensive fly reel and had you hanging on for dear life as it repeatedly defied gravity and physics.
John McLean's art is inspired by the inimitable Florida Everglades. Each print requires many hours to produce. John enjoys the versatility and efficiency of a digital canvas, and the way that computer-based drawing tools yield painterly results that mimic traditional formats like watercolors, oils and pastels. His prints are quickly gaining popularity due to their unique style and bold use of color.
Canvas
• Ready-to-hang art
• Durable 20.5 mil thick canvas over solid-wood stretcher bars
• Acid-free and PH neutral with a poly-cotton base
• Textured and very fade-resistant
• Bars are hand-glued to produce a piece that is 1.5 inches deep
• All materials sourced within the USA
• Mounting brackets included
Giclée Print
• Flat matte print ideal for framing
• Bright, fade-resistant inks
• Saturated colors and excellent highlight and shadow detail
• Museum-quality, archival, acid-free paper
• 10.3 mil (0.26 mm) poly-cotton base
• 94 % opacity for a soft, non-reflective surface
• Ships within a protective tube
Each of these prints is made to order. Please allow at least a week for delivery.