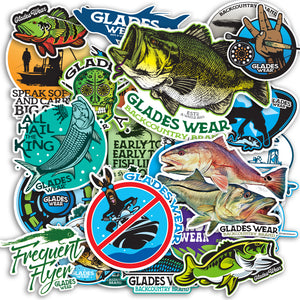 This is it, baby. The whole enchilada. The kitchen sink. The brass ring. Your one shot at adhesive-backed glory. That's right, this bundle includes every design in our nearly famous collection -- heavily discounted so you pay a chunk less for each sticker. Go ahead, breathe into a bag. We almost can't believe it ourselves.

Each of the 30 decals in this bundle is made of thick vinyl with a durable laminate (matte) finish. They're tough enough to withstand scratches, direct sunlight, tropical storms, dishwashers, and whatnot.  Slap them on your skiff, truck window, outboard, water bottle, swamp buggy, laptop, cooler, significant other, forehead, etc.

Sorry, all decal sales are final -- no returns.